Laughter On at Noises Off
Kayla Wratten | On 11, Jun 2017
At Queensland Theatre's production of 'Noises Off,' the audience's genuine bursts of laughter were so consistent they became incidental background noise to the play itself. Or, more accurately, the play within a play.
Director Lloyd Dallas, played by Simon Burke, is attempting to stage a bedroom farce titled 'Nothing On,' with a mediocre cast including an alcoholic septuagenarian, an addled actress and a clueless bimbo who has a special talent for losing her contact lenses. Burke's character embodies every distressed director watching his work fall apart in the dress rehearsal, hours before the opening matinee. The hopelessly underprepared 'Nothing On' is continuously interrupted as actors miss cues, forget lines and struggle with bothersome props and broken doors.
The real cast are a combination of talent and dedication to their craft, surely living up to writer Michael Frayn's expectations. From the 1982 premiere of 'Noises Off' in London to its 2017 opening night in QPAC's Playhouse Theatre, the production is eminently relatable for anyone who has ever worked in the theatre industry, whether on stage or behind the scenes. There's the failed costume change which sees Hugh Parker entering with his trousers around his ankles, and then there's the dishevelled stage manager inevitable to every show, as Emily Goddard enters in a flurry of messy hair and tangled wires, gaff tape trailing from one shoe.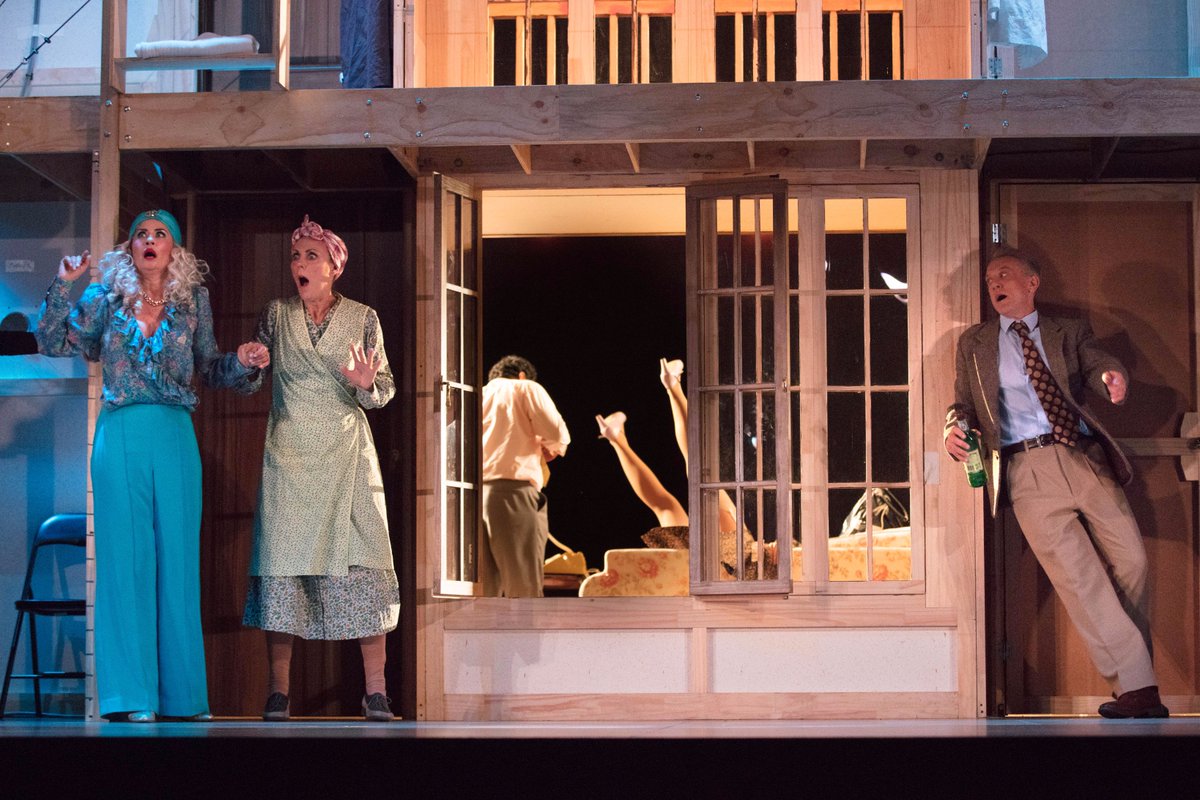 However, you don't need to be a steadfast thespian to enjoy the stylised mayhem, as the characters' relationships are reflective of every chaotic workplace. The majority of the audience could surely find a connection between themselves and the expanding bitterness of unsteady relationships between colleagues as patience transforms into blunt criticism, or with the toxic unravelling of a secret romance.
These undesirable human traits are emphasised in the second act, when the audience are given the opportunity to watch the opening performance of 'Nothing On' from the manic backstage perspective. Fierce jealousy of romantic ties between the cast creates backstage drama in the form of violent sabotage, inspiring a period of silent slapstick which ensures the crowd's laughter never dulls.
The precision of timing present in 'Noises Off' is undeniable, as the actors rely on each other for cues and entrances like surgeons depend on a nurse's assistance in the operating room. Artistic Director Sam Strong said "This play is a Swiss watch of comic construction … In the hurricane of action, nothing is accidental."
Just when you think the curtain has closed for good (or, in the context of 'Nothing On', hovering halfway between up and down), James Saunders appears in the role of the stage manager to announce the final performance of their international tour. You would think seeing the same script repeated three times within the space of three hours would be a form of torture reserved for prisoners, but the Rule of Three lived up to its name. In this final act, the audience delights in the cumulative portrait of disfunction, as improvisation leads to an impromptu wedding involving three burglars.
While Strong has proven to be a skilled director, he's also demonstrated his expertise in fortune telling, as he prophesied: "We'll have an unfair amount of fun rehearsing the show, and you'll have an unfair amount of fun watching it."
Boy, was he right.
THE DETAILS:
What: Noises Off by Queensland Theatre
When: 3 June – 25 June
Where: QPAC, Playhouse Theatre
Cost: $55 – $86
For more info, check out 'Noises Off' here.
Images supplied.